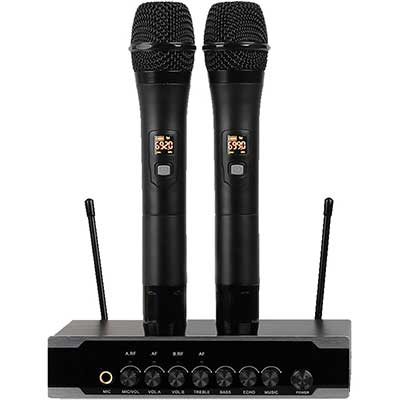 Wireless Microphones
A wireless microphone, or cordless microphone, is a microphone without a physical cable connecting it directly to the sound recording or amplifying equipment with which it is associated. Also known as a radio microphone, it has a small, battery-powered radio transmitter in the microphone body, which transmits the audio signal from the microphone by radio waves to a nearby receiver unit, which recovers the audio. The other audio equipment is connected to the receiver unit by cable. In one type the transmitter is contained within the handheld microphone body. In another type the transmitter is contained within a separate unit called a \"bodypack\", usually clipped to the user\s belt or concealed under their clothes.
If you are looking for a BIS testing lab for Wireless Microphones in India then, Matrix Test Lab is a prominent name in the field of BIS testing lab for Wireless Microphones. The Testing of Wireless Microphones are covered under IS 616/ IEC 60065 standard testing services. The Team working at matrix Test Lab is experienced and has in-depth knowledge on BIS testing of Wireless Microphones and also have worked for several prestigious clients.
We are reckoned as one of the Best-In-Class ISO/IEC 17025 NABL & BIS Accredited test lab for the products covered under CRS I, II, III, IV & V under \"Electronics and IT Goods" (Requirements for Compulsory Registration) Order\" by Government of India, Ministry of Electronics and IT (Meity) standards. MTL is a team of qualified, trained and dedicated employees & has state-of- the -art infrastructure to serve needs of the customer.