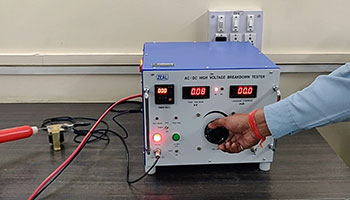 HV tester
High Voltage Testing of electrical equipment covers a wide range of techniques depending on the nature of the equipment and the type of test required. High Voltage testing is usually performed to qualify the device to operate safely during rated electrical conditions, a way to check the effectiveness of its insulation.
The objective sought during the high voltage testing will determine the type and amount of voltage applied and the acceptable current flow. If the high voltage testing target is getting the value of the insulation, we are speaking about Insulation Resistance Tests. When we are looking for the breakdown voltage, the point where the dielectric fails allowing much current to flow,
it is a Dielectric Breakdown Test, and this high voltage testing is usually a destructive test. When the test checks that the leakage current is below a preset safety limit for an established voltage value (below the breakdown voltage), we are speaking about a Dielectric Withstand Test, which is a non destructive high voltage testing, and through which we are also verifying the insulation integrity of the equipment. All this high voltage testing is sometimes referred to as hipot (high potential) testing, but related testers differs much according to the test objective and whether they are on factory or on site.
Other high voltage testing is carried out at site, during commissioning tests and/or periodic maintenance. One of the most typical is the withstand voltage test, to check if the transformer dielectric strength is in suitable condition for the service, or during maintenance programs to demonstrate the equipment keeps capable of withstanding over voltages during operation. The overvoltage is usually applied during 60 seconds, between primary and secondary of the transformer, or between secondary and ground. This high voltage testing is successful if the measured current does not cause the insulation to break, being lower than the maximum leakage current allowed, so that the product will be safe to use under normal operating conditions. Now, this kind of testing is available in the SMC Raptor System.
If you are looking for a Top HV tester testing Lab for your product in Delhi-NCR, India then Matrix Test Lab is a name of trust for all your queries related High Voltage Tester Testing services in India. To improve the quality of the product & to cope-up the demand, Matrix Test Lab also, in short known as MTL, Initiated HV tester Testing services to provide reliable & efficient testing services to esteemed clients as per National & International protocol.
We at MTL, provide complete automotive testing solution ranges from Electrical/Mechanical safety testing to Environmental Testing to ensure, safe and reliable products.