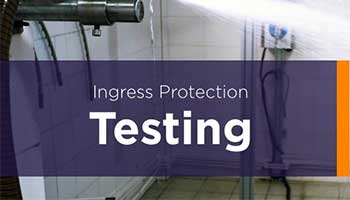 Ingress Protection Test- IP Testing
There are several reasons for ingress testing, including safety, functionality and product marketing.Many products require insulation from outside elements in order to function properly. Those outside elements include mist, steam, sprayed water, sand, oil and even fingers, just to name a few. Ingress protection testing helps determine whether a particular product is going to function appropriately when placed in the field.
What Products Need to Be Protected Against Ingress?
Different products require different levels of testing and different types of testing. Generally, ingress protection is divided into testing for ingress from foreign objects or liquids. With many products, the point where it would be most likely to fail comes at a seam between two parts.
Testing at the Seams
Dust and water can find their way inside a product at a seam that joins two parts. Therefore, seams between components are often sealed by a gasket — either a rigid or a flexible gasket.
Rigid gaskets provide structural stability and greater protection against ingress than flexible gaskets, and flexible gaskets may provide greater overall functionality for the product. However, flexible gaskets often present a challenge when trying to keep out the elements. Their flexibility can sometimes leave small gaps in a seal where the outside environment can find its way inside the product.
In addition, gaskets are sometimes fitted improperly or are screwed or bolted with too little or too much pressure. Either way, a gap in the seam between two components can develop, and it can provide a source for outside elements to work their way into the product.
What Products Need Ingress Protection?
Ingress Protection Testing products include computers, laboratory equipment, certain medical devices, light fixtures as well as products that must remain dust-free or moisture-resistant. Items that are sealed and will likely be placed in hazardous places also need IP Testing.
If you are looking for a Top IP Testing Lab for your product in Delhi, India then Matrix Test Lab is a name of trust for all your queries related to IP Testing services in India. To improve the quality of the product & to cope-up the demand, Matrix Test Lab also, in short known as MTL, initiated IP Testing services to provide reliable & efficient testing services to esteemed clients as per National & International protocol.
We at MTL, provide complete automotive testing solution ranges from Electrical/Mechanical safety testing to Environmental Testing to ensure, safe and reliable products.