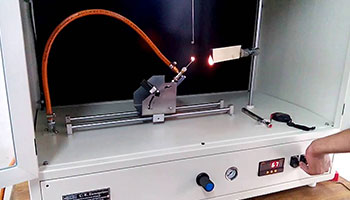 Needle Flame Testing
This method is used to test and assess the fire hazard presented by a plastic material using a needle flame.
The test determines the impact of a small flame on the test specimen. In particular, it calculates the severity, in other words the exposure time to the flame after which the material will just about meet the specified requirements.
Summary of the test method:
The test specimen is arranged in a vertical position over tissue paper. A propane gas flame is applied to the edge as well as to the flat surface. The burning time, flammability and severity (exposure time) are determined for this flame application. The test is usually performed on parts or selected areas of these parts.
The GLOW WIRE TEST APPARATUS from Seguridad Electrica was designed and manufactured to perform the test specified in many standards (IEC 60335, IEC 60065, IEC 60745, IEC 61029, IEC 60950) to check resistance to fire in insulating parts.
Its was designed to meet the requirements of international safety regulatory agencies such as UL, DNV, IMQ, BVSQ, ITS, IRAM, CSA, VDE, DIN, INMETRO.
The best method for testing electro technical products with regard to fire hazard is to duplicate exactly conditions occurring in practice.
In most cases this is not possible. Hence, for practical reasons, testing of electro technical products for fire hazard is conducted by simulating as closely as possible actual effects occurring in practice.
A loop of resistance wire is electrically heated to a specified temperature and the specimen being tested is brought into contact with this heated wire with a defined horizontal loading.
Observations and measurements are made to evaluate the fire hazard presented by the specimen during exposure to elevated temperatures.
The test described in IEC 60695-2-10.
If you are looking for a Top Needle flame testing for your product in Delhi-NCR, India then Matrix Test Lab is a name of trust for all your queries related Needle flame testing services in India. To improve the quality of the product & to cope-up the demand, Matrix Test Lab also, in short known as MTL, initiated Needle flame testing services to provide reliable & efficient testing services to esteemed clients as per National & International protocol.
We at MTL, provide complete automotive testing solution ranges from Electrical/Mechanical safety testing to Environmental Testing to ensure, safe and reliable products.