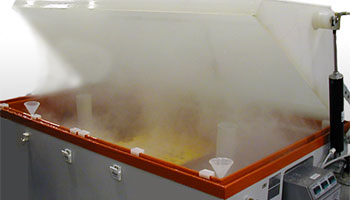 SALT SPRAY TESTING
The salt spray test (or salt fog test) is a standardized and popular corrosion test method, used to check corrosion resistance of materials and surface coatings. Usually, the materials to be tested are metallic (although stone, ceramics, and polymers may also be tested) and finished with a surface coating which is intended to provide a degree of corrosion protection to the underlying metal.
Salt spray testing is an accelerated corrosion test that produces a corrosive attack to coated samples in order to evaluate (mostly comparatively) the suitability of the coating for use as a protective finish. The appearance of corrosion products (rust or other oxides) is evaluated after a pre-determined period of time. Test duration depends on the corrosion resistance of the coating; generally, the more corrosion resistant the coating is, the longer the period of testing before the appearance of corrosion or rust.
The salt spray test is one of the most widespread and long-established corrosion tests
Application
Salt spray testing is popular because it is relatively inexpensive, quick, well standardized, and reasonably repeatable. Although there may be a weak correlation between the duration in salt spray test and the expected life of a coating in certain coatings such as hot-dip galvanized steel, this test has gained worldwide popularity due to low cost and quick results. Most Salt Spray Chambers today are being used NOT to predict the corrosion resistance of a coating, but to maintain coating processes such as pre-treatment and painting, electroplating, galvanizing, and the like, on a comparative basis.
Testing equipment
The apparatus for testing consists of a closed testing cabinet/chamber, where a salt water (5% NaCl) solution is atomized by means of spray nozzle(s) using pressurized air. This produces a corrosive environment of dense salt water fog (also referred to as a mist or spray) in the chamber, so that test samples exposed to this environment are subjected to severely corrosive conditions. Chamber volumes vary from supplier to supplier. If there is a minimum volume required by a particular salt spray test standard, this will be clearly stated and should be complied with. There is a general historical consensus that larger chambers can provide a more homogeneous testing environment.
If you are looking for a Top Salt Spray Testing Lab for your product in Delhi, India then Matrix Test Lab is a name of trust for all your queries related to Salt Spray Testing services in India. To improve the quality of the product & to cope-up the demand, Matrix Test Lab also in short known as MTL, initiated Salt Spray Testing services to provide reliable & efficient testing services to esteemed clients as per National & International protocol.
We at MTL, provide complete automotive testing solution ranges from Electrical/Mechanical safety testing to Environmental Testing to ensure, safe and reliable products.